Horse Cult - Day Dreams & Night Mares CD
£

10.00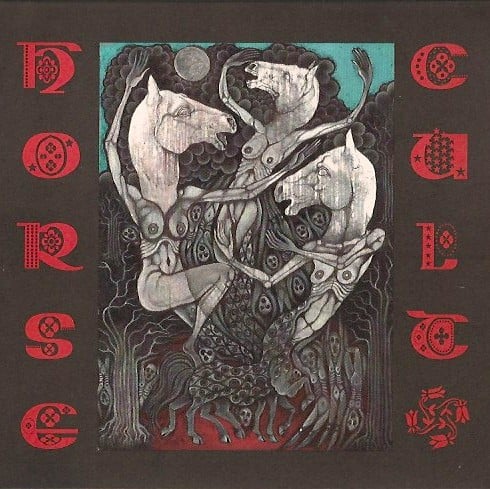 Folklore Distribution is thrilled to be able to offer the bewitching debut album by Portland, Oregon's Horse Cult for sale in the UK and Europe for the first time.
(For those of you in the US and the rest of the world please order directly from the band https://horsecult.bandcamp.com/)
Day Dreams & Night Mares is a stunning collection of dark folk that has a sublime fragility that is encapsulated in the essence of every track. This is without doubt one of the most beautiful and perfectly presented album's that inhabit the shadowy recesses of the dark folk genre.
This release is the reason Folklore Distribution was founded as i felt it needed to be more readily available to the European market.
The CD is presented in beautiful gatefold packaging. Included within is a 9"x13" poster/lyric sheet insert.
All off-set printing. Printed by Stumptown Printers in Portland Oregon. Cover/poster artwork taken from the original painting by Jesse Peper (c) 2016
In her review of the album for Heathen Harvest Anne K. O'Neill wrote:
"Kierkegaard once wrote, "Life can only be understood backwards; but it must be lived forwards." Horse Cult have poetically realized this statement in their music by joyously, unabashedly digging through the soil, finding the roots that have brought us to where we are today, extracting that essence and painting portraits of tales of life and dreams and all that lies in between, in whatever beautiful, dark, or mixed state that might be. Day Dreams & Night Mares has become one of my favorite releases of this year. Anyone that is fond of dark folk, or even of more traditional folk on up to some of the more psych-tinged folk of the sixties and seventies, would surely appreciate this release, and I can virtually find no reason why anyone interested in these things would choose to ignore this album."
The complete review can be found here: https://heathenharvest.org/2016/10/25/horse-cults-debut-day-dreams-night-mares-is-destined-to-become-a-poetic-dark-folk-classic/
An in-depth interview with the band can be found on Heathen Harvest, who voted the album one of the best neo-folk releases in 2016, here:
https://heathenharvest.org/2016/04/03/beguiling-dark-folk-the-musical-enchantments-of-horse-cult-exclusive-premiere/